Learn how to build a mini pond step by step! If you have renovated the old bathtub that was at home, don't rush to throw it away. Try to give it a second life in a practical and economical way. You can reuse your bathtub in different ways, it can be under ponds, flower beds, a fountain and even furniture that looks really great.
First, decide what size and shape you will build a mini pond.
1. Mark all dimensions on the floor with pegs.
2. Dig to the depth of the well.
3. Mark out the grass around the hole to a depth of 10 cm, pour sand on the ground and lay a tile on the sidewalk.
4. Raise the sides around the perimeter of the hole for 1-2 bricks. The bricks are glued with construction glue to the paving slab.
5. Place a special pool film on the bottom of the pit. Pour water on the bottom of the mini pond with stones or pebbles.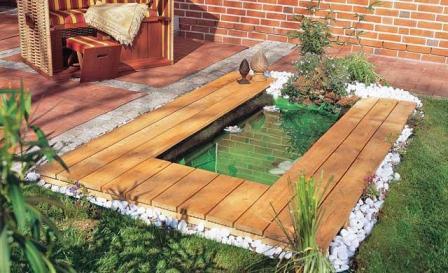 A pond, as you also know, is the space in which a certain amount of water is deposited, whether of natural or artificial origin. While it is true that ponds are mainly used as habitat for aquatic animals, many people choose to make their own ponds at home to have a small pool or a beautiful natural space to relax.
Get more information at perfectaidea.com and in our Facebook para más Construir un mini estanque paso a paso.