Pieces that will make your life and home more beautiful, the designers of furniture from all over the world develop new, original and practical designs. Although it is impossible to know them all, it is always a pleasure to discover them one by one, and let yourself be carried away by the charm of these ingenious inventions.
In this article you will learn about nine of the most surprising pieces that have been developed in recent times; true works of art designed for modern life and contemporary homes. Each one of them is as exclusive as it is incredible.
1. Expandable round table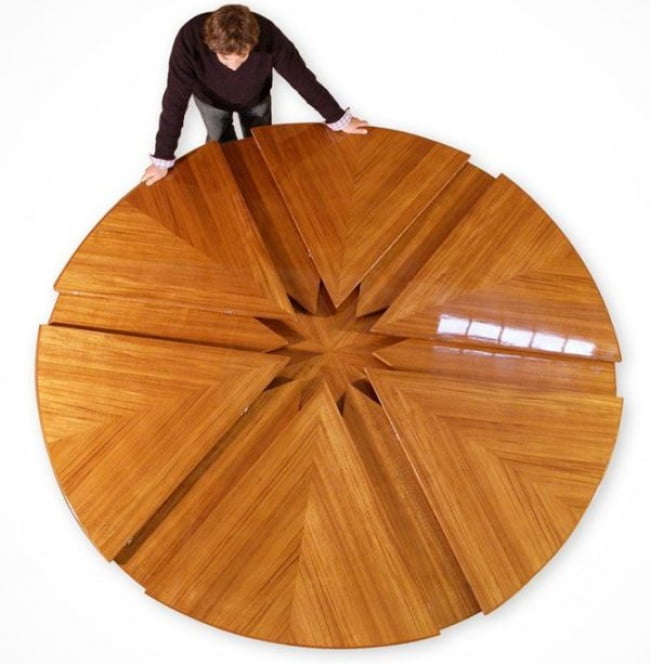 This table, in addition to being beautiful, is totally practical. It adapts to any space and carries as many people as necessary, according to the occasion. Its creator,  David Fletcher. The pieces that make up the table form a central star that increases or decreases until it disappears, according to the size to which it is adjusted.
2. 1 + 1 = one million
It's impressive to see what two simple pieces of wood can make. These modular boxes can be converted as many times as your imagination allows. See all the options they offer: today it can be a cozy room; Tomorrow it will be a small dining room, and in no time they will be ready for the change. A formidable design Julia Kononenko!
3. An entire bedroom in one room 
This part, called «History» by its creator  Fanny Adams, it is an ideal multifunctional mobile for small spaces. It opens and folds to form a sofa with auxiliary drawers, a bed and a work office. If you live in a matchbox, you'll probably want one of these.
4. A sculpture? No, a modular room
This compact modulated room includes four chairs and a central table that fit together like pieces of a puzzle, forming the obelisk (or rocket)-shaped sculpture that can be seen to the right. When not in use, it adorns the environment, and when you need an extra place for your guests, it becomes this modern and comfortable furniture set. More information about this piece on the site  of its creators.
Couch
At first glance, this is just a beautiful wooden bench. But if you look carefully, you will find that the designers of Beyond Standards  They were able to take the concept to another level of flexibility. You just have to rotate your independent pieces to get the combination you want: a work table, two adjacent seats or simply a large couch.
Get more information at perfectaidea.com and in our Facebook for more pieces that will make your life and home more beautiful.