Designs of Rustic Stone and Wood Stairs with organic shapes and natural color. People are attracted to this style because of its ability to give a natural touch to any home, while at the same time giving off an engrossed farmhouse style.
Original Rustic Stair Designs
Designs with rustic stone and wood elements
Diseño de sala de estar con estilo rústico
Beautiful stairs with a rustic style
Original and modern rustic wooden stairs
Natural wood staircase design
With wooden shelves full of texture and that heavy image will look great. When you use the right light it will look warmer and more pleasant.
Although the stone finishes steal everyone's attention in each of these spaces. It must be very clear that the decoration of the walls and in general sense should not be very busy.
There is nothing that helps decorate a rustic interior better than the walls. They have a lot to offer and on the other hand they gain relevance depending on how they are decorated.
If we think a little we will remember that it is a style that comes from the countryside and is rather simple. Perhaps what looks best in an environment with rustic stairs is maintaining order.
Each material must be combined in a harmonious and simple way. Each part of the furniture is the key to the dining room.
Other accessories will be useful to highlight all the possible shades.
Together with a sofa we would have a large part of the living room work done.
All that natural look makes it something really special. The room gains aesthetics when the appropriate furniture is used.
We don't necessarily have to flood all the spaces in the house with this style. Just some areas can be customized this way.
The stairs ascend from the living room to the second floor and are an important visual element of the home's decoration. What is recommended so that the rustic stairs do not look out of place is that all the decoration is also harmonious.
When choosing a rustic railing for your home, there are always many options. You will commonly find products made of pine wood, or sometimes white cedar, which runs around 3 to 4 inches in diameter.
While this is less repetitive, the limbs of most trees are too weak to form a safe barrier.
These guidelines must be followed, whether on the interior balcony or on the exterior deck of the house. To avoid this, rustic railings sometimes have screens built into the angled ends to represent the forest canopy.
As mentioned, natural railings can be an ideal opportunity to deviate from the repetitive lines created by the structure. Those with shades made of materials such as laurel are strong and beautiful. Strength is not the only safety factor facing the design.
Other cabin railings may use wood, metal, or glass screens to break up the monotony of vertical and horizontal lines associated with simpler handrails. Choosing natural materials can define the difference between making a boring railing or creating a natural work of art.
Handrails, handrails or safety rails have two main parts; the top piece that we put our hands through, which usually extends from the post to the ground, and the balustrade or screen that prevents children and pets from passing under the railing.
The best way to quickly and easily capture the look of a mountain lodge is with rustic railing like the one we'll see in the image below.
Some homes in certain areas such as the mountains or countryside are perfect for a rustic theme.
One of the biggest challenges of rustic living is finding alternatives to modern building designs that capture the beauty of nature and rustic railings are perfectly suited for this task. Even more, contemporary structures can use a touch of nature to fit into the landscape.
But enough about that, we are here because rustic staircase designs are the main focus of this collection. It will not be difficult to notice the greatest similarities between them. All of them have some wood in their construction, if not made entirely of this material. Some models look more modern due to glass handrails and minimalist designs, but the main setting is the rustic style.
This collection is a great way for you to get that much-needed inspiration to continue what you're doing, only with more productivity and creativity.
Solid wood balusters typically have clean, simple designs. You can also choose to use wrought iron balusters to create a unique pattern across your staircase.
Wooden stairs are available in a variety of wood species, including oak, maple, hickory, American cherry, Brazilian cherry, and mahogany.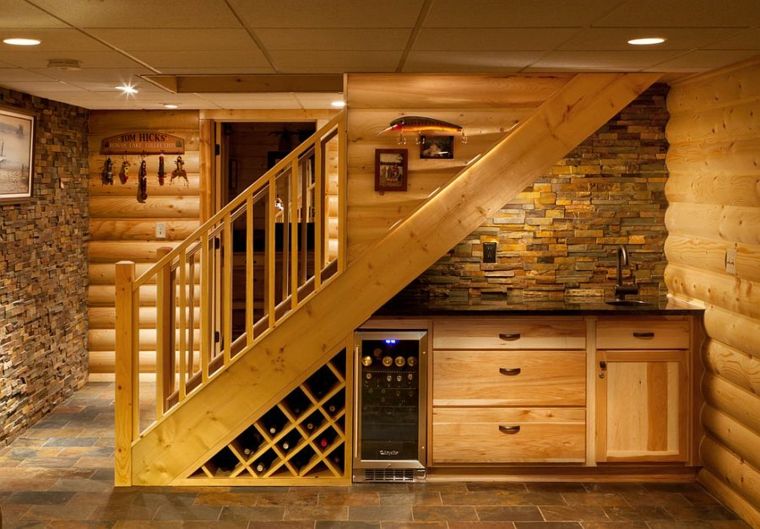 Spiral stairs provide a great benefit. Unlike their traditional counterparts, spiral staircases will only occupy a small circle in your floor plan. Many people think that a traditional straight staircase is the only way to safely reach the second floor of their home.
Rustic designs bring warmth and design style to a home. There is a universal homey feeling we experience when entering a home filled with rich wood tones and metal accents.
Get more information at perfectaidea.com and in our Facebook for more Rustic Stone and Wood Stair Designs.